Ethiopia Public Holidays - Back In Time Adventure
By Jenna Jolie | Update at: Jan 01, 1970
Ethiopia is a country that is physically cut off from the rest of the world. Ethiopian holidays are likewise distinct, and while conventional holidays such as International Labor Day and Eid el Fitr can be observed, the remainder of their holidays are notably different. The Ethiopian calendar has 13 months, and the locals have their own timekeeping system that does not use daylight saving.
As a tourist, you may be wondering how you might participate in Ethiopian cultural holidays or, at the very least, time them to coincide with your own.
Ethiopia public holidays
Ethiopia Public Holidays 2023 calendar
Ethiopian celebrations are distinct and vibrant. They are generally religious and usually last several days, with some even taking place among native Ethiopian tribes in the Lower Omo Valley. Timkat, Meskel, Christmas, Kidddus Yohannes, and Easter are all important Christian feasts.
Below are listed public holidays in Ethiopia:
Ethiopian Christmas Day (Genna) - Saturday, January 7th, 2023
Timkat (Epiphany) - Thursday, January 19th, 2023
The victory of Adowa - Thursday, March 2th, 2023
Ethiopian Good Friday (Siklet) - Friday, April 14th, 2023
Ethiopian Easter Sunday (Fasika) - Sunday, April 16th, 2023
Eid al-Fitr (End of Ramadan) - Saturday, April 22nd, 2023
International Labour Day - Monday, May 1st, 2023
Derg Downfall Day (National Day) - Sunday, May 28th, 2023
Eid al-Adha (Feast of Sacrifice) - Thursday, June 29th, 2023
Ethiopian New Year (Enkutatash) - Tuesday, September 12, 2023
Discovery of the true cross (Meskel) - Thursday, September 28th, 2023
Ethiopia Important Public Holidays of the year
1. Timkat - Ethiopian Epiphany (Thursday, January 19th, 2023)
The Timket Celebration in Ethiopia is the largest and most colorful festival of the Orthodox Christians in Ethiopia, celebrating the baptism of Christ by John the Baptist every January 19th (20th during a leap year). On the eve of the Timket, another ceremony known as Ketera takes place, in which the Talbots of each church are taken out in procession to a river or pool of water where the following day's celebration takes place. The greatest places to attend the Timkat are Lalibela, Gonder, and Addis Ababa, where numerous tents are set on Jon Meda's green field.
Knowing the precise dates of Ethiopian festivals in the Gregorian calendar will aid travelers who want to come and celebrate their own holidays alongside Ethiopians. If you want to spend your vacation in Ethiopia, please visit our website and fill out the contact form.
Timkat festival in Gonder, Ethiopia
2. Ekutatash - Ethiopian new year (Tuesday, September 12, 2023)
The Ethiopian New Year commemorates both the New Year and the feast of John the Baptist at the conclusion of the lengthy spring rains when the Highlands are covered with wildflowers. Children in new costumes dance through the countryside, handing off flowers and painting images to each family. When the Queen of Sheba arrived from her voyage to see King Solomon in Jerusalem, Enkutatash simply means "present of gems." Her Chiefs greeted her return by restocking her treasury with gems, or enku. Since ancient times, Ethiopians have celebrated the Spring Festival.
As the rains stop, dancing and singing can be heard in every village in the verdant countryside, and every family lights a bonfire in the evening as the dancing and singing continue.
3. Genna - Ethiopian Christmas (Saturday, January 7th, 2023)
Genna is derived from the term Gennana, which means "imminent," to indicate the Lord's arrival and the liberation of mankind from sin. Genna, the Ethiopian Christmas, is celebrated on January 7th (Gregorian calendar), and people dress up in their nicest to celebrate. Christmas celebrations begin as early as 6:00 a.m., when people congregate in churches for mass. Ethiopians then return to their houses to feast. In small groups of friends and family, Genna is softly shared and cherished. Doro Wat, a spicy chicken stew, and Injera, a sourdough pancake-like bread, are among the dishes served. The feast is accompanied by a honey-based local wine called Tej.
Ethiopians celebrate Genna festival
4. Fasika - Easter (Sunday, April 16th, 2023)
Fasika is celebrated after a 55-day fast (Abye Tsome or Hudade). People flock to church on Easter Eve to light candles during a spectacular Easter mass service that begins at about 6 p.m. and concludes around 2 a.m. Fassika is celebrated colorfully in Axum and Lalibela, and everyone returns home to break the feast with chicken or lamb. Easter, like Christmas, is a time for family reunions, gift exchanges, and the exchanging of good wishes.
5. Meskel - Finding of the true cross (Thursday, September 28th, 2023)
The Meskel Event is a notable Orthodox festival in Ethiopia. It is observed for two days starting on September 26th. Queen Helena, Constantine the Great's mother, discovered the cross on which Christ was crucified in 326. Dimera is the first occasion on which bonfires are lit, topped by a cross to which flowers are tied, and a rain shower is predicted to come at the end of Dimera to aid in extinguishing the fire. It is expected that the year would be fruitful if rain ultimately comes and puts out the fire.
Meskel is a bright event that corresponds with the mass blossoming of golden-yellow meskel daisies. The Meskel festival is best seen in Addis Ababa in the famed Meskel plaza, although Bahir Dar, Gonder, Axum, Lalibela, and other large cities are also wonderful places to witness it.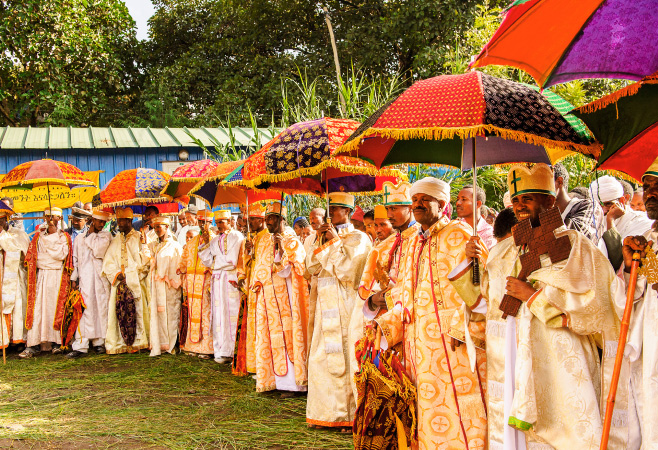 Ethiopian people celebrate the Meskel festival
Travel seasons in Ethiopia
Ethiopia's peak tourism season lasts from the last week of September to the first week of January, with festivals like Meskel and Timkat attracting both travelers and hotels that raise their costs for the occasion. Weather-wise is also an excellent time to come, with nice temperatures, clear sky, and little rainfall in most regions of the nation. In practice, though, unless you plan on doing a lot of trekking - the upper slopes of the Bale or Simien mountains may be pretty unpleasant in the rains - visiting Addis Ababa, the northern highlands, and the Rift Valley at any time of year is not a problem.
Even in July and August, rain falls in short, spectacular storms that cause less disruption to daily traffic than might be imagined. Furthermore, the countryside is gloriously green at this time of year, prominent sights like Lalibela are significantly less crowded with other tourists, and most hotels are eager to negotiate good rates for walk-in guests.
The northern circuit is perhaps best explored in September, when the rain has subsided slightly, the tourist season has not yet really begun, and the green slopes are adorned with blankets of yellow Meskel flowers.
Throughout the year, wildlife watching is continuous, although native birds are most colorful during the nesting season, which generally corresponds with the rains, while the European winter months draw flocks of migrants from the north.
Exploring Ethiopia holidays may feel like traveling back in time at times, but these vacations keep you right up to date by introducing you to the people and culture of Ethiopia. You may try the best vegan food in the world (only a few nations do it better), go hiking in the Bale Mountains or see baboons in the Simien Mountains, or tour the Northern Circuit to see the old rock-hewn cathedrals of Lalibela. However, everywhere you travel, you'll be with skilled local guides and staying in smaller, typically family-run facilities. It's the greatest way to get around here and the finest way to get to know Ethiopia.
Our Ethiopia e-Visa services make it simple and quick for you to begin your travel throughout Ethiopia. Let's investigate and look for the online application form from now on!