Arba Minch - Explore Ethiopia's Hidden Oasis
By Mabel Collins | Update at: Jan 01, 1970
Looking for a unique and off-the-beaten-path attraction in Ethiopia? Look no further than Arba Minch! This hidden oasis in Southern Ethiopia offers stunning natural beauty, rich cultural heritage, and exciting outdoor activities. Explore the Nechisar National Park, hike to the Guge Mountains, visit traditional villages, taste local cuisine, and more. With its warm and friendly people, stunning lakes, and rich history and culture, Arba Minch is a must-visit destination for any traveler looking to experience the true beauty of Ethiopia.
This article will provide you with several things you need to know about Arba Minch in Ethiopia, including its weather, location, and things to do.
Discover The Secret Of Arba Minch 
What is the location of Arba Minch?
Arba Minch is located in the Southern Nations, Nationalities, and People's Region (SNNPR) of Ethiopia, about 500 kilometers south of the capital city, Addis Ababa. The city is situated on a plateau between the two lakes, Chamo and Abaya, which are part of the Rift Valley. 
Arba Minch is easily accessible by road, with regular bus services from Addis Ababa and other major cities in the region. The city also has an airport with flights to and from Addis Ababa to Arba Minch. 
What is the meaning of Arba Minch?
Fitawrari Aemeroselasie Abebe created the city in the early 1960s in a region known locally as "Ganta Garo," which translates to "Black Forest" in Gamo.
The name "Arba Minch" also means "forty springs" in the local Amharic language, and this is because of the many natural springs that can be found in and around the city, which provide a source of water for the surrounding communities and support the lush vegetation and wildlife found in the region.
How is the weather in Arba Minch? 
Arba Minch experiences a tropical climate that has two distinguishable seasons, namely the dry season and the rainy season. The dry season, which starts from October to May, is marked by hot and sunny weather with temperatures averaging around 30 degrees Celsius. On the other hand, the rainy season, which occurs from June to September, is accompanied by frequent showers, thunderstorms, and high humidity.
If you want to visit Arba Minch during the warmest months, the best months to go are March, February, and April. This is also the most popular time that travelers choose to visit Arba Minch to create the best conditions for exploring the natural resources and national parks in this area. 
Arba Minch is one of the common destinations among visitors
How far from Addis Ababa to Arba Minch?
The distance from Addis Ababa to Arba Minch is approximately 454 kilometers (282 miles) by road. The journey by car typically takes around 7-8 hours, depending on traffic and road conditions. There are also daily flights available from Addis Ababa to Arba Minch, with a flight time of around 1 hour.
How to travel to Arba Minch Ethiopia? 
Every traveler must have a visa to visit Arba Minch in Ethiopia; otherwise, they will be rejected from entering the country. Nowadays, they can apply online instead of going to the Embassies to apply for a traditional visa. This type of visa is called an electronic visa, which totally can apply through our platform to get a travel permit in a few days. 
Apply for an Ethiopia e-visa now to get a ticket to visit this rich cultural country. Before you apply, remember to check your eligibility conditions to know whether you are qualified for having an e-visa or not. Now is the right time to grab a visa and pack your bags to discover Ethiopia with numerous outdoor activities, which are shown in the below section. 
Travel Guide For Things To Do In Arba Minch 
1. Explore the Nechisar National Park
Ethiopia Immigration Services are well aware that Ethiopia is not one of the best places to go on safari; there are other African countries, such as South Africa, Tanzania, and Kenya, where there is an abundance of animals and the parks are well preserved; however, why don't you give a chance to explore Ethiopian parks, including the Nechisar National Park.
Nechisar National Park is a must-visit destination for nature lovers visiting Arba Minch. The park is home to a wide variety of wildlife, including zebras, gazelles, baboons, and warthogs, as well as over 300 species of birds. The park also features a scenic landscape of mountains, forests, and savannahs, making it a great place for hiking, birdwatching, and wildlife spotting.
The beauty of the natural resources of Nechisar National Park
2. Visit the Dorze Village
The Dorze Village is a traditional Ethiopian village located near Arba Minch, famous for its unique culture and architecture. It is a tiny Omotic-speaking ethnic group located in the Gamo Highlands of Ethiopia's southern area. They are part of the wider Afro-Asian language family. 
The Dorze people are known for their skill in weaving and their distinctive beehive-shaped houses made from bamboo and thatch. Visitors can take a tour of the village and learn about the Dorze way of life, as well as purchase locally made textiles and handicrafts.
There is a special thing about this village is the shape of the house, which imitates the face of an elephant. People believed that these animals used to live on this land before migrating to Kenya.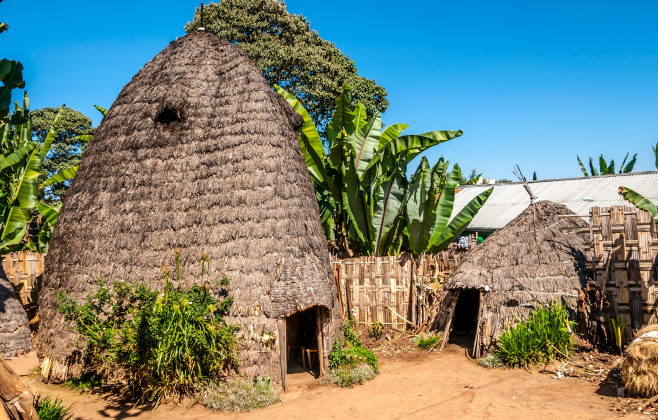 The unique shape of houses in Dorze village, Arba Minch
3. Relax by the Lakes
Arba Minch is surrounded by two stunning lakes, Chamo and Abaya, which offer plenty of opportunities for water-based activities. This area, located more than 500 kilometers south of Addis Ababa, is one of Ethiopia's remaining big wildernesses. 
A worldwide hotel with high-quality service and amenities in Arba Minch assures that visitors may experience the splendors of nature in comfort. Travelers coming here can swim, fish, and boat on the lakes, as well as enjoy the beautiful scenery and wildlife. The lakes are also home to crocodiles and hippos, so it's important to take precautions and not approach them too closely.
Chamo and Abaya lakes which are located near the Nechisar National Park 
4. Visit the Arba Minch Crocodile Farm
Arba-Minch Crocodile Ranch is located in Gamo Gofa Zone, approximately 500 kilometers and 270 kilometers south-west of Addis Ababa and Hawassa, respectively. The Arba Minch Crocodile Farm is a conservation center located near the city, dedicated to the protection and breeding of Nile crocodiles. 
Visitors can take a tour of the farm and learn about the life cycle and behavior of crocodiles, as well as see the crocodiles up close and personal. The farm also has a museum where visitors can learn about the history of crocodile farming in Ethiopia.
Watch the crocodile at a close distance
5. Taste the Local Cuisine
Arba Minch is known for its delicious cuisine, featuring a blend of Ethiopian traditional food and local specialties. Muslim, Jewish, and Catholic religious traditions have also influenced the country's cuisine to accommodate dietary constraints. 
Ethiopia is a country where families always welcome visitors, so homemakers have food on hand to satisfy religious celebrations as well as dietary restrictions during periods like Lent or Ramadan.
Visitors can try dishes such as injera (a sourdough flatbread), tibs (spiced meat dishes), and shiro (a chickpea stew), as well as enjoy fresh fruit juices and local coffee. There are several restaurants and cafes in the city that serve authentic Ethiopian cuisine, as well as street vendors and food stalls that offer a more local experience.
Is Worth to Travel To Ethiopia Arba Minch 
Arba Minch is a unique and captivating destination in Ethiopia that offers a wealth of natural and cultural attractions. It is worth it for travelers to visit. From the picturesque lakes and national parks to the historical and traditional sites, there is something that everyone can experience in this hidden oasis. Visitors can explore the stunning landscapes, learn about the rich culture and history of the region, and experience the warm hospitality of the local people. 
Through this travel guide, Ethiopia Immigration Services believes that travelers add Arba Minch to your travel bucket list. With its warm and friendly people, sparkling lakes, and rich history and culture, Arba Minch will definitely make a big impression on all tourists.