Harar Discovery: A Journey To Ethiopia's City Of Peace
By Jenna Jolie | Update at: Oct 17, 2023
Harar, Ethiopia, a UNESCO World Heritage site, is a unique destination among the top-rated attractions in Ethiopia. Within its compact 1-square-kilometer area, more than 300 winding alleyways evoke memories of Morocco's enchanting Fez. The city is a captivating blend of numerous mosques, serene shrines, lively markets, weathered walls, and warm-hearted locals, taking you to a bygone era, away from the hustle and bustle of the 21st century. 
A trip to Harar is undoubtedly the most unforgettable journey that you simply can't afford to miss. To add the exciting moments, you may encounter wild hyenas up close, making it a destination cherished by every intrepid traveler.
Harar, Ethiopia: A Comprehensive Guide to Ethiopia's City of Peace
Where is Harar located?
The ancient city of Harar is located on a low plateau along the eastern flank of the Great Rift Valley, approximately 50 kilometers southeast of Dire Dawa. This fortified city, surrounded by protective walls, is proud of a rich Islamic heritage and is often regarded as the fourth holiest city in Islam. 
Throughout its history, Harar has served as a bustling commercial hub, interwoven into trade routes connecting it with the entirety of Ethiopia, the Horn of Africa, the Arabian Peninsula, and global destinations through its ports. Recognized as a UNESCO World Heritage Site, Harar has a timeless spiritual aura that will take visitors to medieval times, creating a unique and distinct atmosphere that sets it apart from the rest of Ethiopia.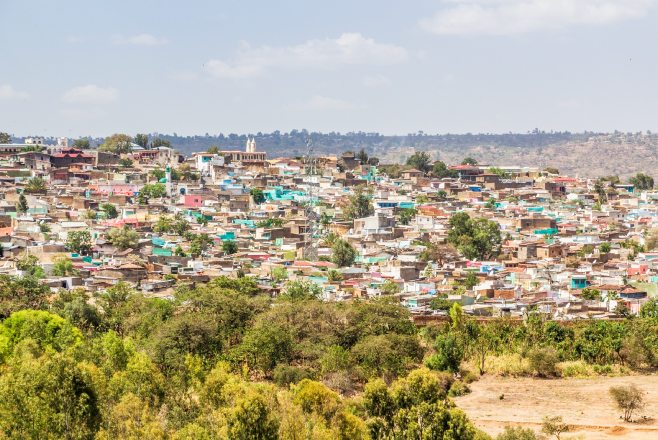 Harar is the city of peace in Ethiopia
How to get to Harar, Ethiopia?
Harar is located 525 kilometers northeast of Addis Ababa, near the border of Somalia. There are two convenient ways to reach the "City of Peace," Harar, Ethiopia:
The first is traveling by air to Dire Dawa International Airport and catching a shared taxi to the minibus station. From there, hop on a minibus that will take you on a scenic 45-minute journey to the heart of Harar. 
If you're arriving from the capital, Addis Ababa, or Dire Dawa itself, convenient bus services are available to facilitate your journey to Harar. From Dire Dawa, minibusses are also an option, typically costing around 30 birr. 
As you approach the city, you will first see a large sign: "CITY OF PEACE", a symbol of Harar's unity transcending religious and ethnic backgrounds, welcoming you to this remarkable destination.
The best time to visit Harar, Ethiopia
The best time to visit Harar, Ethiopia, is from January to March and October to December. During these periods, Harar enjoys the most favorable weather conditions for travelers. With its steppe or semi-arid climate, Harar has a yearly average maximum temperature of 27°C, making it comfortable to enjoy exciting tourist activities. The temperatures range from 24°C in July to 29°C in March. Harar may experience its rainiest months between April and May, so visiting the city during these months is not advisable.
What is Harar known for? The Must-Do Activities On Your Journey To Harar, Ethiopia
Visit the sacred Muslim-walled city of Harrar
Visiting the Harar Jugol wall should be at the top of must-do activities for anyone exploring Harar's historic charm. Dating back to a period spanning from the 13th to the 16th century when this remarkable fortress wall was built, it measures a substantial 5 meters in height and extends over 3.5 kilometers. 
This fascinating wall once encompassed five grand gates, namely the Shoa Gate, Buda Gate, Sanga Gate, Erer Gate, and Fallana Gate, each providing entry points to five distinct quarters within the city. Today, as you explore Harar, the Jugol wall remains an iconic landmark of the city, attracting a large number of tourists. 
The top thing to do in Harar, Ethiopia
Visit the Sherif Harar City Museum
Another tourist spot that should not be missed on your trip to Harar is the Sherif Harar City Museum. Known as the most decorated museum in the city of Harar, this museum is more than just a repository of artifacts. It carries with it the romantic allure of hosting the honeymoon of Emperor Haile Selassie and Empress Menen Asfaw. Within its hallowed halls, visitors will be lost in a captivating journey through time and space. 
The Sherif Harar City Museum is filled with jewelry, ancient coins, weaponry, textiles, and age-old manuscripts sourced from the diverse regions of Amhara, Gurage, Oromo, Somali, and Argoba. Nowadays, it still preserves Ethiopia's multifaceted heritage, offering a valuable glimpse into the nation's past and the enduring love story of its iconic rulers.
Immerse in the unique culture and traditions of the community
This UNESCO World Heritage Site was once a prominent trading hub and crossroads connecting Africa, India, and the Middle East. Therefore, the convergence of diverse nationalities and their unique traditions has given rise to the remarkably distinctive Harari culture.
When traveling to this city, travelers will have a chance to participate in the Hyena Man Show, where locals feed wild hyenas by hand – a fascinating spectacle that showcases the unique connection between Hararis and these majestic creatures. The origins of this custom started in the 20th century when the Harari people began offering food to the indigenous hyenas to protect their livestock from these predators.
Last but not least, the Harar food is a delightful blend of Ethiopian and Arabic flavors, with dishes like injera (spongy sourdough flatbread) and mouthwatering tibs (grilled meat) being staples. The local Harari dish, "Fulan," a mouthwatering mix of porridge, beans, and spices, is worth savoring at least once when you stay there.
Visit: Ethiopian traditional food
Harar is a city with diverse cultures and traditions
To prepare for a journey to unlock the secrets of Harar and experience the wonder of this Ethiopian jewel, you should apply for an Ethiopia visa in advance. The good news is that applying for an Ethiopian visa online has never been easier thanks to the electronic visa system. The Ethiopian government has streamlined the visa application process, allowing travelers from many countries to obtain their visas online. 
You should simply visit the Ethiopian Immigration Services website, fill out the application, submit the required documents, and await your approval. With the quick processing, you can expect to get your visa for Ethiopia in three business days. Once you have your visa, you're ready to embark on your journey to Harar.
Let's pack your bags, apply for your visa online, and get ready to explore the wonders of Harar, Ethiopia's hidden treasure. In this captivating city, you'll discover not only the beauty of the past but also the promise of a more peaceful future.